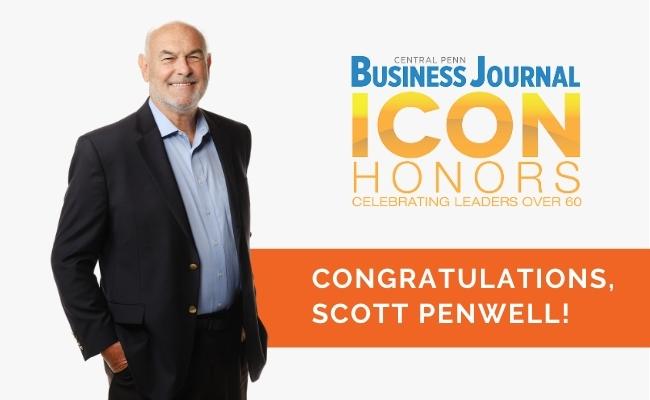 HARRISBURG, PA – December 15th, 2020 –  Penwell Law Managing Partner and Co-Founder, Scott C. Penwell, was named as one of Central Penn Business Journal's 2020 ICON Honors Awards recipients.
Central Penn Business Journal's ICON Honors Awards is one of the publication's most popular award programs.  This year they received over 100 nominations.
The ICON Honors Awards recognizes business leaders (over the age of 60) who have created an enduring positive impact not only in their respective field or industry but have lifted up the Central PA community through their honorable integrity, innovative vision, and selfless service.  
"To be eligible for ICON Honors, honorees . . . must have a long-standing commitment to the midstate business community and significant professional accomplishments through innovation and leadership. Honorees must also be champions of their industries and demonstrate a sustained commitment to community service." – Central Penn Business Journal
Winners were honored at a virtual event on Tuesday, December 15th from 5:30 PM – 6:30 PM.  Their achievements were recognized and celebrated through visual storytelling and videos.  
Learn more about Scott by visiting his biography page.
About Penwell Law
Penwell Law LLC was formed in 2017 by Scott Penwell to provide big-firm corporate, securities and insurance work in a smaller, more creative, efficient and nimble environment. The firm has expanded to four lawyers and regularly provides legal services in the areas of corporate governance, corporate finance and securities, franchising, and mergers and acquisitions, as well as offering unique expertise to clients in the insurance agency and insurance companyindustries.