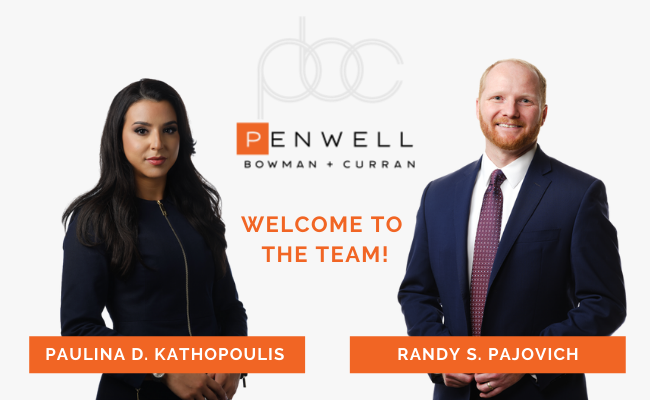 HARRISBURG, PA – September 2021 –  Over the past few months Penwell Bowman + Curran has continued to expand by hiring attorneys, Randy S. Pajovich and Paulina D. Kathopoulis. 
Welcoming Randy and Paulina to their team of skilled lawyers allows Penwell Bowman + Curran to continue to provide sophisticated transactional legal services to their growing nationwide client base.
"We feel very fortunate to have lawyers of the caliber of Randy and Paulina join our growing firm.  Randy comes to us from a well-respected local firm and has jumped right into to our very active mergers and acquisition practice without missing a beat.  Paulina recently joined us from a large Philadelphia-based firm and has already assumed a laboring oar in many of our acquisition projects," said Scott Penwell, managing partner of the firm.
Randy has dedicated himself to assisting clients start and successfully grow their businesses.  Prior to joining Penwell Bowman + Curran, Randy worked for a regional law firm where he focused his practice in the corporate and real estate arenas. Randy has a background in commercial litigation and provides significant experience in representing clients in complex mergers and acquisitions, commercial lending and secured transactions, corporate governance matters, and other commercial and/or real estate transactions.
Paulina provides experience in being an entrepreneur, like many of her clients, and founded a beverage company while completing her undergraduate degree.  She has served as an owner, director, and advisor, which has given her firsthand insight into forming and growing a business.  Prior to joining Penwell Bowman + Curran, Paulina was a casualty litigation attorney where she defended insured and self-insured entities in various litigation matters including automobile, construction accidents, and premises liability.
You can get to learn more about what makes Randy and Paulina top quality lawyers as well as gain some insight into what they enjoy doing during their time off by visiting their bio pages below:
Learn more about Randy S. Pajovich
Learn more about Paulina D. Kathopoulis
About Penwell Bowman + Curran LLC
Penwell Bowman + Curran LLC was formed in 2017 by Scott Penwell, Brandt Bowman and Matt Curran to provide big-firm corporate, securities and insurance work in a smaller, more creative, efficient and nimble environment. The firm has expanded to six lawyers and regularly provides legal services in the areas of corporate governance, corporate finance and securities, franchising, and mergers and acquisitions, as well as offering unique expertise to clients in the insurance agency and insurance company industries.