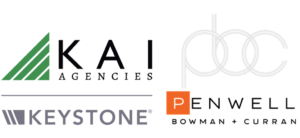 HARRISBURG, PA – October 23, 2020 – Keystone Insurers Group, Inc. (Keystone), the third largest independent insurance agency network in the U.S., and Bain Capital Credit, LP (Bain), a leading global investment specialist, recently announced the launch of Keystone Agency Investors (KAI), a platform to acquire and invest in U.S. retail insurance agencies. The platform launched with the objective of deploying at least $500 million of capital over the next several years.
Penwell Bowman + Curran serves as counsel to the newly launched joint venture and was instrumental in its creation and formation. "I've represented Keystone since they began franchising their insurance platform and for 25 years have watched them grow into the premier insurance agency franchisor in the United Sates.  I got to know Bain when they invested in an insurance company on whose board I serve.  I knew Keystone was looking for a capital partner to purchase agencies to complement its franchise platform and that Bain was looking for opportunities in the insurance space. I arranged for a meeting between the two and, as they say, the rest is history" said Scott Penwell, a partner and co-founder of Penwell Bowman + Curran LLC.
Bain Capital Credit, with $40 billion in assets under management will fund the joint venture which will both provide liquidity and acquisition capital to Keystone's agencies, as well as acquire non-Keystone agencies. Approaching $4 billion in premium, Keystone's network of over 280 agencies has grown to span across 17 states since its founding in 1983 and expects to expand to be national in reach within the next five years.
"Scott has been invaluable in helping us create and grow our insurance agency franchise platform over the past 25 years. Having the ability to also purchase agencies is key to our survival and long term strategy and Scott recognized that Bain would be a great capital partner for us to accomplish that" said David Boedker, CEO of both Keystone and KAI.
Scott and his partners, Brandt Bowman and Matt Curran started their law firm three years ago to do corporate, securities and insurance work. They not only brought the parties together and helped them structure the joint venture, they have also done the first $75 million in acquisitions for the joint venture, which has a rapidly growing acquisition pipeline. "Our lawyers have a long track record representing various parties in the insurance space, including insurance companies, alternative market insurance vehicles and insurance agencies. The addition of KAI to our list of clients has enabled us to continue to expand our insurance agency work into a national practice," said Brandt Bowman. Matt Curran, who led the most recent acquisition for KAI added that "our work for KAI solidifies the reputation of our young firm as one with a tremendous breadth of experience in the insurance space. Having a client based in Harrisburg, Pennsylvania that is destined to be a force in the national insurance agency marketplace is very exciting."
For more information about the transaction, click here to see the press release.
About Penwell Bowman + Curran
Penwell Bowman + Curran LLC was formed in 2017 by Scott Penwell, Brandt Bowman and Matt Curran to provide big-firm corporate, securities and insurance work in a smaller, more creative, efficient and nimble environment. The firm has expanded to six lawyers and regularly provides legal services in the areas of corporate governance, corporate finance and securities, franchising, and mergers and acquisitions, as well as offering unique expertise to clients in the insurance agency, insurance company, and church extension fund industries.