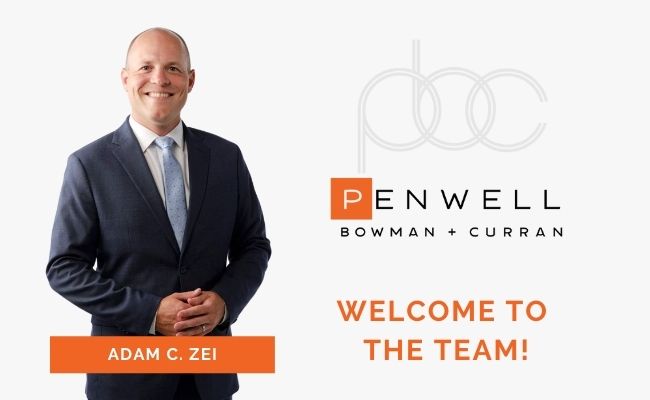 HARRISBURG, PA – October 2021 –  Penwell Bowman + Curran LLC continues to grow by hiring new attorney, Adam C. Zei. 
Prior to joining the Penwell Bowman + Curran team, Adam began his career as a litigator, which allowed him to appear before every appellate court in the Commonwealth of Pennsylvania while successfully representing corporate, municipal, and individual clients in multiple jury and bench trials.  During his private practice experience, he guided clients through entity formation, employment matters, purchases, contract and lease negotiations and several other challenges that come up in day-to-day business operations.  Adam is dedicated to working collaboratively with his local, regional, and national business clients to resolve issues and remove obstacles so they can reach their business goals.
"Adam's 10 years of experience dealing with and solving problems for clients dovetails very nicely with our burgeoning insurance agency and insurance company practice which ranges from solving insurance carrier/agent appointments and disputes, customer/policyholder issues, employment matters, regulatory hurdles, perpetuation issues and merger and acquisition issues. We look forward to integrating Adam and his skill set into our practice as we build our firm," said Scott Penwell, Managing Partner of Penwell Bowman + Curran.
You can learn more about what makes Adam a highly experienced attorney as well as gain some insight into what he enjoys doing during his time off by visiting his bio page below:
Learn more about Adam C. Zei
About Penwell Bowman + Curran LLC
Penwell Bowman + Curran LLC was formed in 2017 by Scott Penwell, Brandt Bowman and Matt Curran to provide big-firm corporate, securities and insurance work in a smaller, more creative, efficient and nimble environment. The firm has expanded to six lawyers and regularly provides legal services in the areas of corporate governance, corporate finance and securities, franchising, and mergers and acquisitions, as well as offering unique expertise to clients in the insurance agency and insurance company industries.