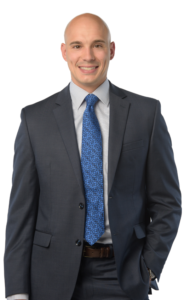 Harrisburg, Pa. –  July 26, 2019 – Penwell Bowman + Curran is excited to announce that Brandt Bowman, Partner and Co-Founder of corporate and securities law firm Penwell Bowman + Curran LLC, has been selected as a Central Penn Business Journal 2019 Forty Under 40 award recipient. CPBJ's Forty Under 40 awards recognize up-and-coming leaders in Central Pennsylvania.  The winners include attorneys and accountants, CEOs and a variety of other executives and leaders.
The winners will be honored Monday, October 7, 2019, at the Hilton Harrisburg.  For a complete list of winners and more information about the Forty Under 40 Awards, go to CPBJ's website.
Penwell Bowman + Curran was established in 2017 with the goal of being the go-to startup, corporate and securities law firm for Central Pennsylvania and beyond.  Coupling the flexibility and accessibility of a small firm with the experience and sophistication found in larger law firms, Penwell Bowman + Curran represents business clients of all sizes in all phases of the corporate lifecycle, regularly providing legal services in the areas of business startup, corporate governance, capital raising, business operations, mergers & acquisitions, securities compliance, franchise law and business succession.  Additionally, the lawyers at Penwell Bowman + Curran offer unique expertise in a number of specific industries, including insurance, franchises, hedge funds and church extension funds.
More information about Penwell Bowman + Curran LLC can be found at their website, www.penwelllaw.com.
For press inquiries or media inquiries contact:
Scott Penwell
Telephone:  (717) 727-0570